Marc Cain Clothing for the Modern Woman
11th October 2023
Discover the latest Marc Cain Night Train collection this Autumn at Jane Young. A stunning collection where modern women can embrace their individuality through versatile, distinctive fashion.
Our stylist has picked their favourite pieces and welcomes you into a world of self-expression.
Our curated selection of Marc Cain Night Train pieces echoes the multifaceted nature of the contemporary woman. Just like her, these collections are versatile and adaptable to her ever-changing moods and expressions. With Marc Cain, fashion takes on a distinctive and unmistakable form, reflecting the individuality and uniqueness that sets her apart. 
Our Stylist's Marc Cain outerwear and accessory choices
We may still be getting a burst of Autumn sunshine but the mornings and evenings are certainly feeling cooler. Often we think of our coats as something to cover up our outfits, but with Marc Cain's vibrant collection why not let your outerwear be the showstopper?
Marc Cain Check coat with kimono sleeves / Outerwear
This coat makes a bold fashion statement with its stylish check pattern and airy, voluminous wool blend. It features a unique design inspired by kimono sleeves and a double-breasted front. The high-collared lapel cascades gracefully, and it comes in a captivating oriental green hue. With convenient in-seam pockets, it's both fashionable and functional.
Coat available in-store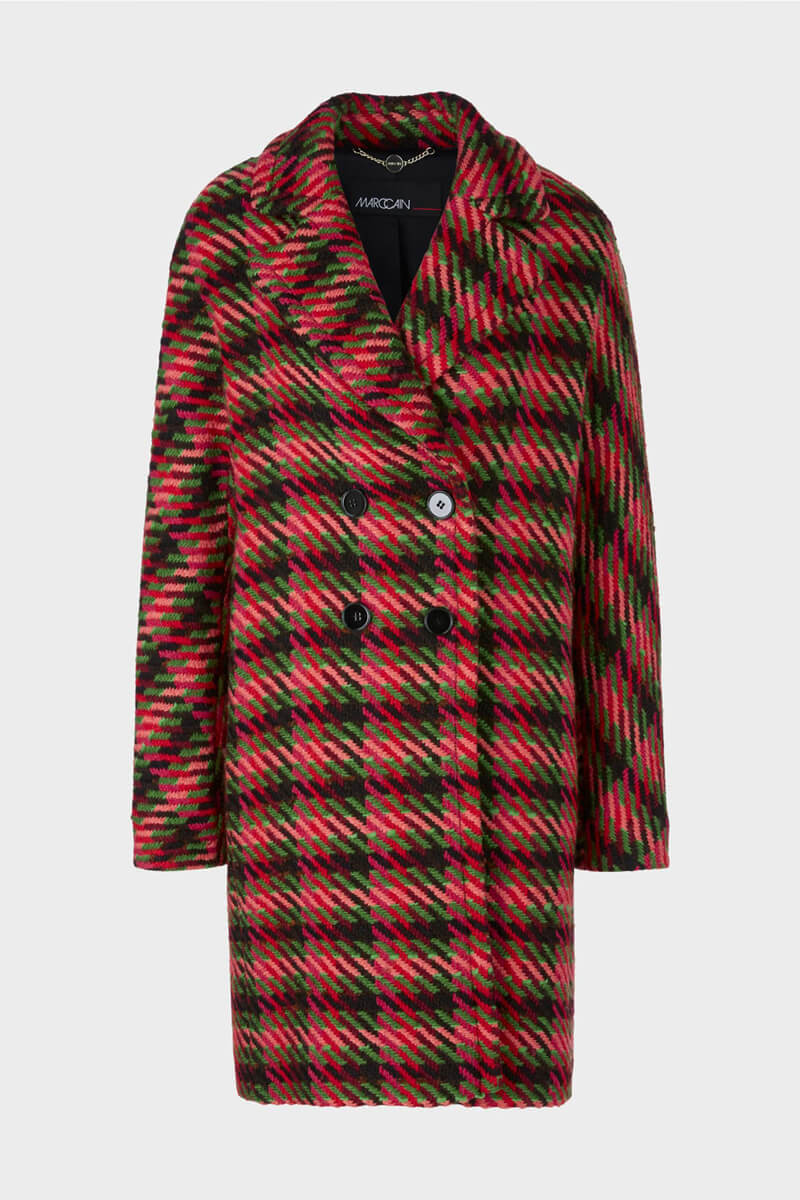 Marc Cain Fur hat with pom-poms / Accessories
Add some fun to your outfit with this pom pom hat. Crafted from 100% wool, it not only enhances the texture of your outfit but also elevates its overall appeal, making it more captivating and engaging.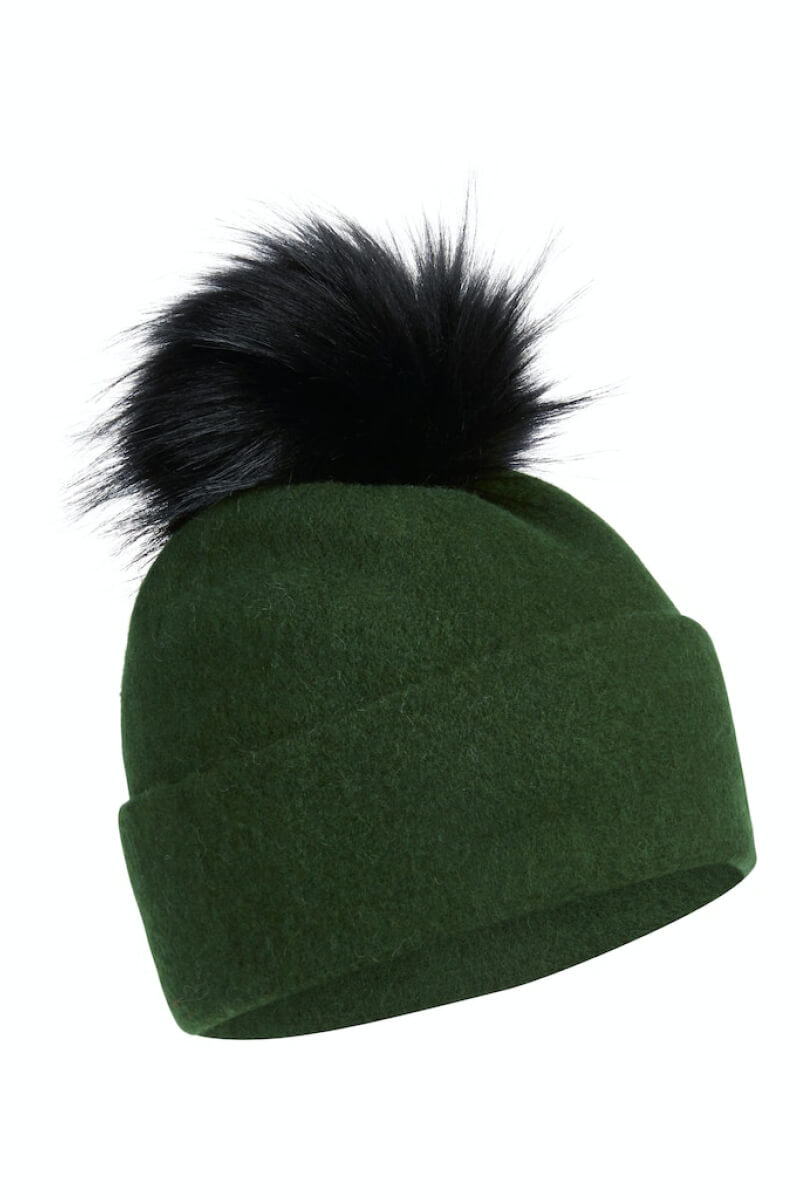 The Dress Collection, our stylist's top picks
Dresses are an absolute fashion staple, a must-have in a modern woman's wardrobe. Whether you wear them day to day or for an evening event. The dress is the ultimate answer to your never-ending dilemma of what to wear. This one piece is graceful, stylish and chic.
Marc Cain Body-hugging dress with pattern mix / Dress Style 1
This body-hugging dress draws inspiration from the eclectic fashion of the 1970s, infusing a modern flair through pattern blending. The floral print juxtaposes the Leo print on the cuff sleeve. The stunning wide neckline features a centre front slit for added allure, and the back zip ensures effortless wear. The perfect addition to your wardrobe that you can dress up with heels for the evening or accessorise with boots and a cardigan in the day.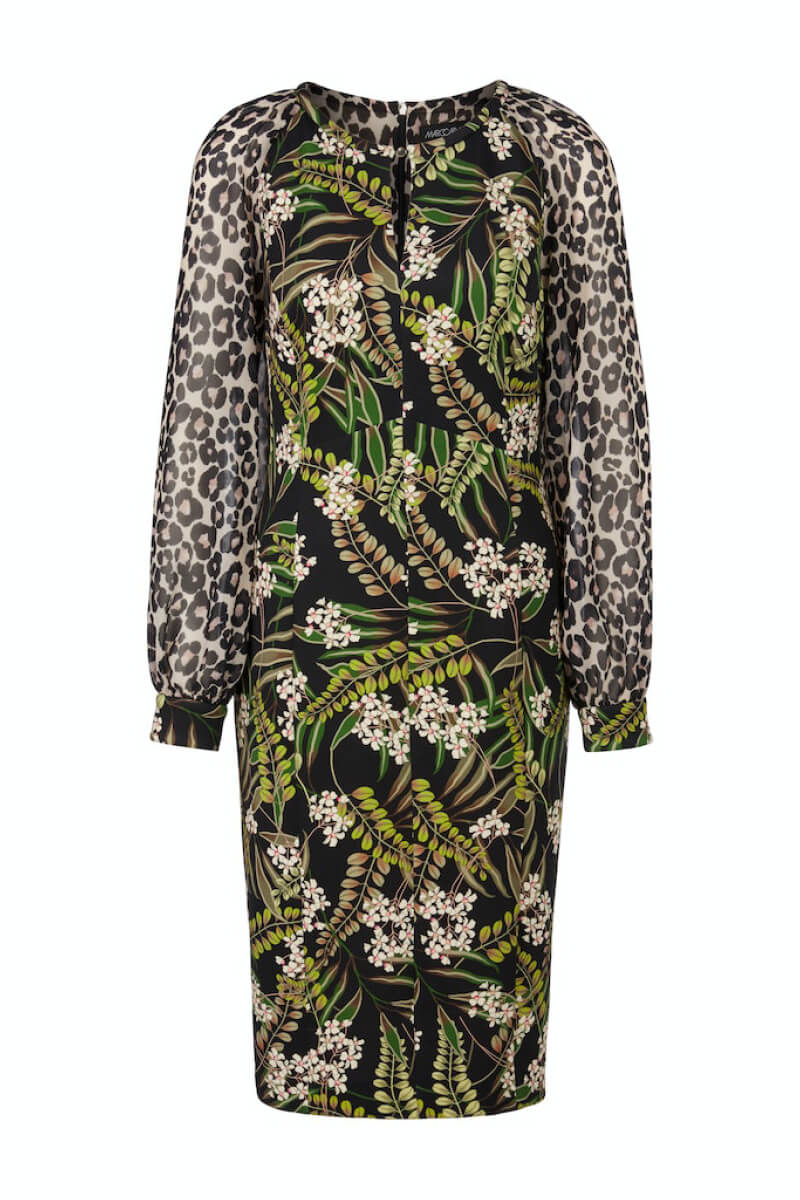 Marc Cain Chequered Dress / Dress Style 2
The chic design of this wool dress cleverly creates the illusion of a two-piece ensemble but is connected with a discreet hidden lining. Exquisite fringe trim adorns both the skirt's hem and the sleeves, adding a touch of playful sophistication to the outfit. The check is made up of red, pink, and black with a touch of green giving this dress a modern twist on a classic Jackie O style.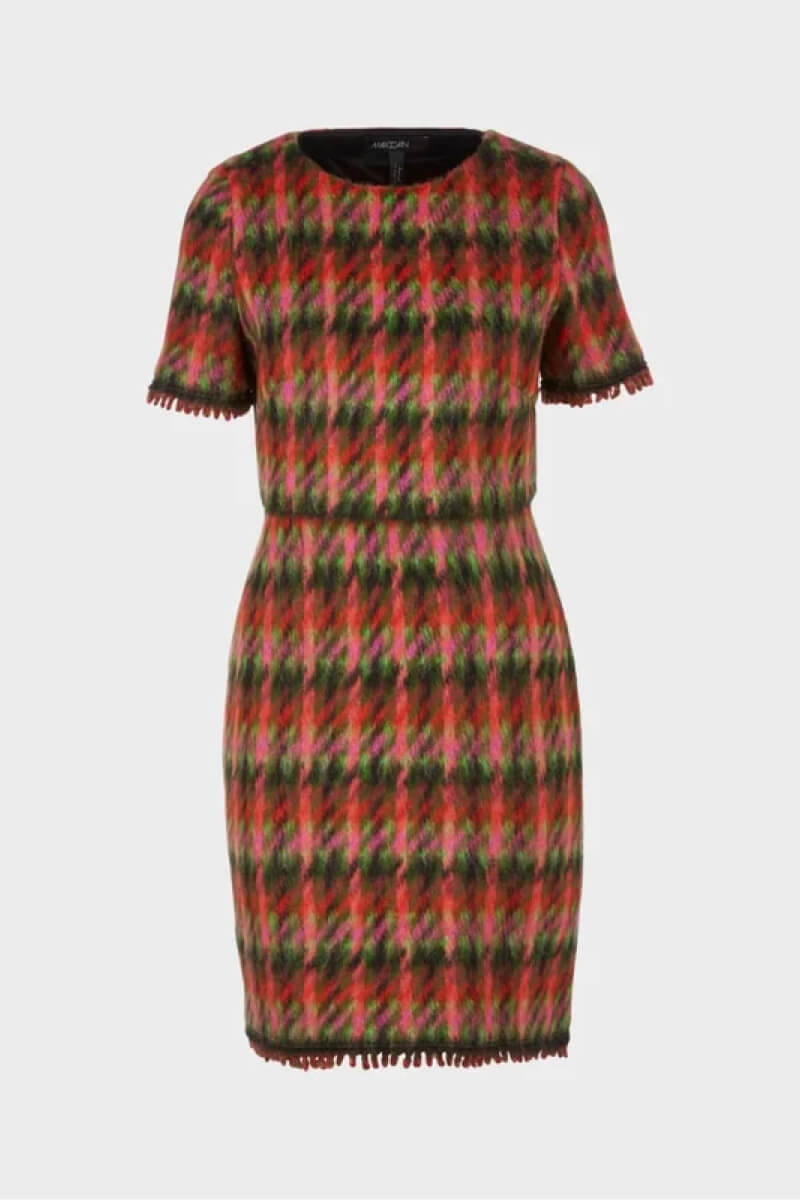 Marc Cain 70s vintage look dress / Dress Style 3
This dress draws inspiration from the chic style of the seventies, crafted from a soft, flowing blend of viscose and silk. It features a straight cut and sleeves with elegant cuffs. The standout element is the unique collar solution, combining a V-neckline with a stylish loop. Adding an element of surprise with a flattering colour-blocking effect, seen on the sides, the back sleeve, and the cuffs in various complementary shades. This dress is thoughtfully lined for your comfort and style. Another great dress that can see you from day to night as the party season approaches fast.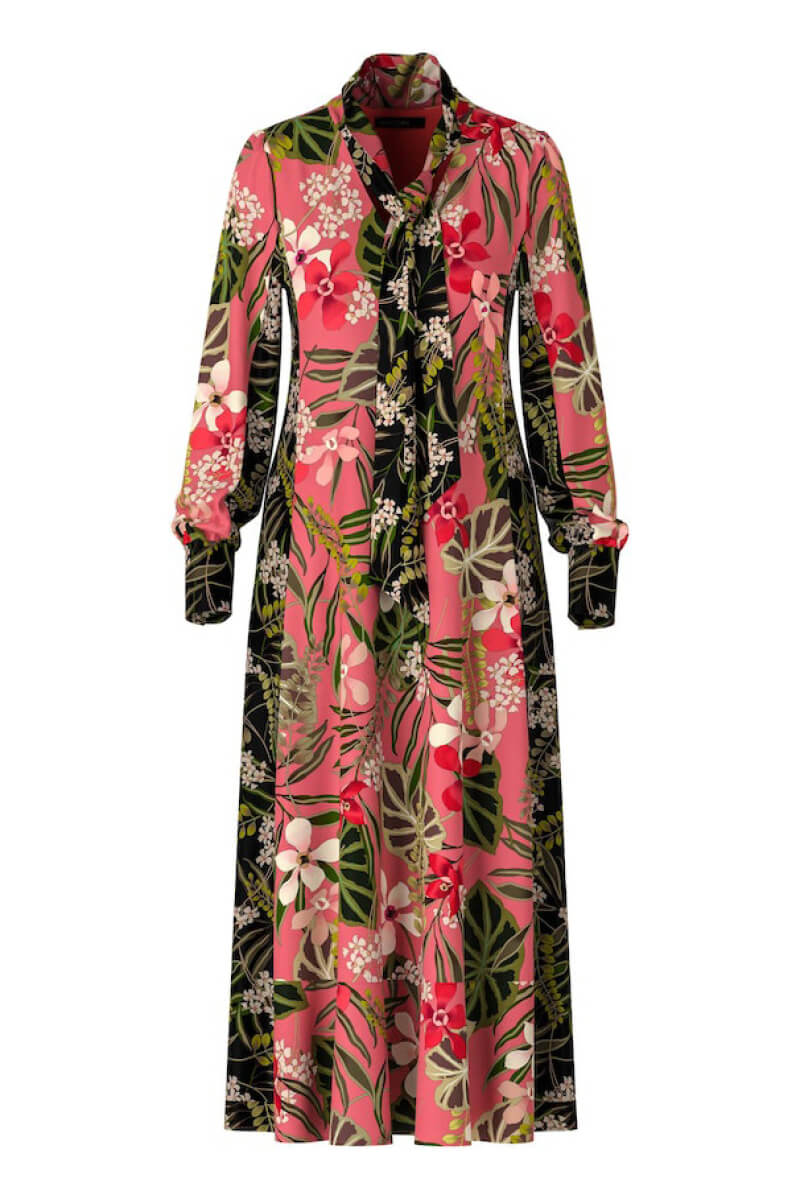 Versatile separates from our stylist's selections
Tailored separates are the easiest way to put a look together, with minimal effort needed. Whether you are looking for a shirt or blouse to add interest to your favourite jeans or a pair of trousers that can see you through the full autumn-winter season. Marc Cain's Night Train collection has something for everyone.
Viscose blouse with lace / Blouse Style 1
This blouse boasts a relaxed fit that is accentuated by the graceful drape of the viscose fabric. The finely pleated front meets the charming ruffled sleeves, while a delightful bow is artfully sewn onto the neckline. The blouse is adorned with a charming autumnal pattern featuring oak leaves and pheasants, adding a touch of seasonal elegance.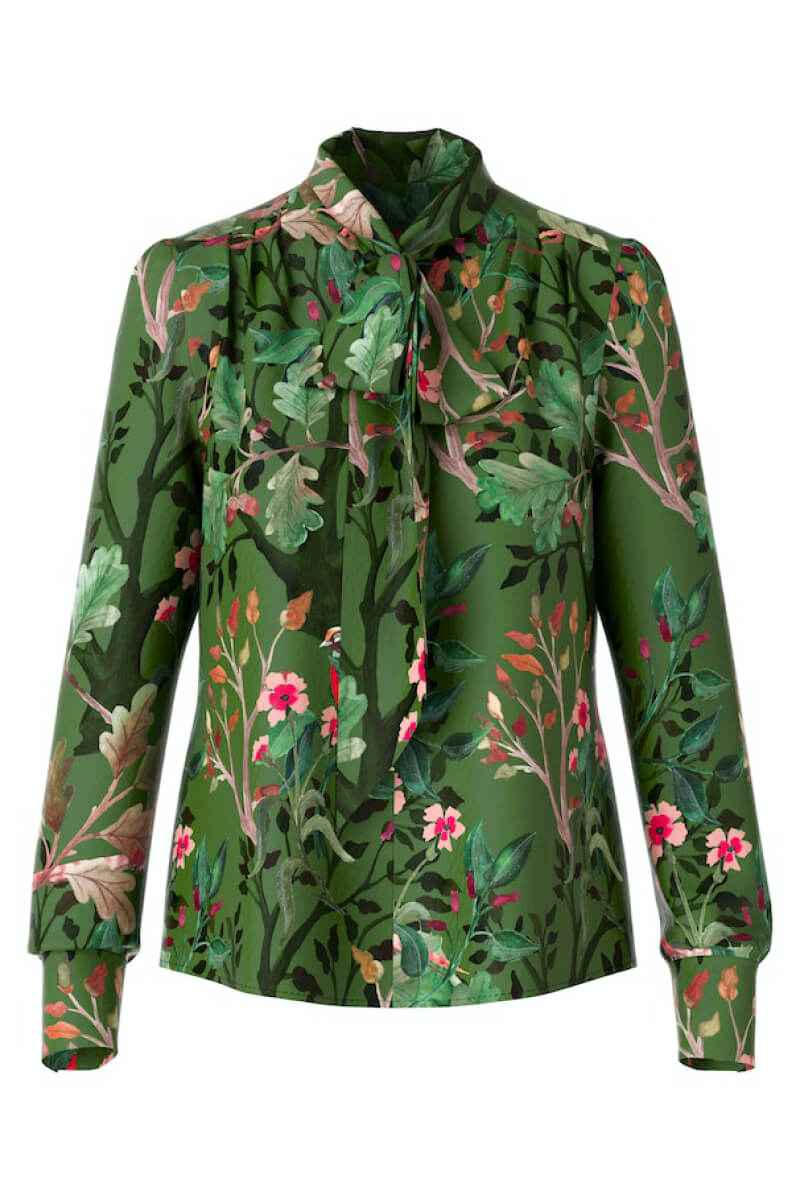 Silk blouse with ruffles and flounce / Blouse Style 2
Crafted from matt-shimmering, softly flowing red silk, this blouse features a rounded hemline that gently slopes to the sides. Adding a touch of elegance is the ruffled collar and a central flounce, secured with delicate ribbons. Wear with coordinating colours of similar shades or add a pop of colour to black faux leather trousers for a more dramatic look.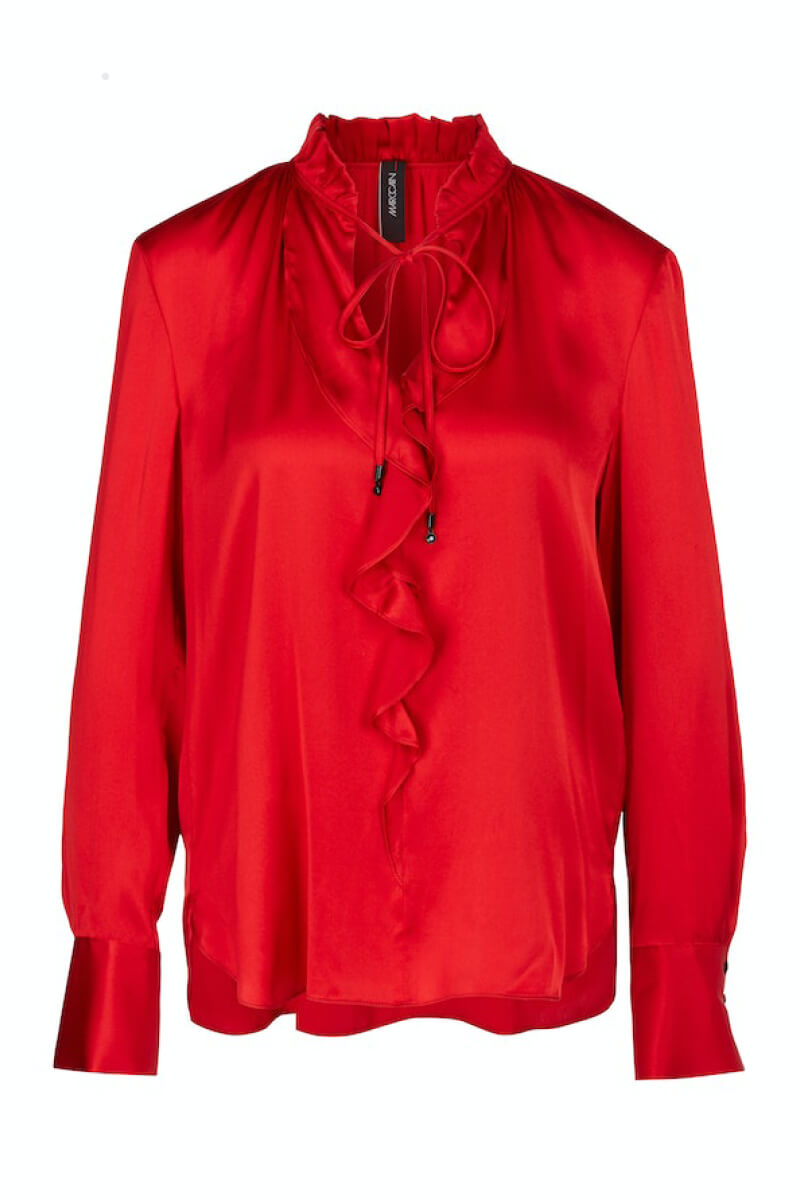 Feminine blouse with floral print / Blouse Style 3
This exquisite blouse is made from a luxurious blend of viscose and silk, embracing a flattering, body-hugging silhouette. The standout feature lies in its captivating collar design, comprising a button placket, a chic stand-up collar, and a detachable bow that adds to it versatile design. The soft bow varies in both colour and design. This blouse not only looks great from the front but the reverse showcases a graceful pleated section that is sure to catch the eye of anyone you pass.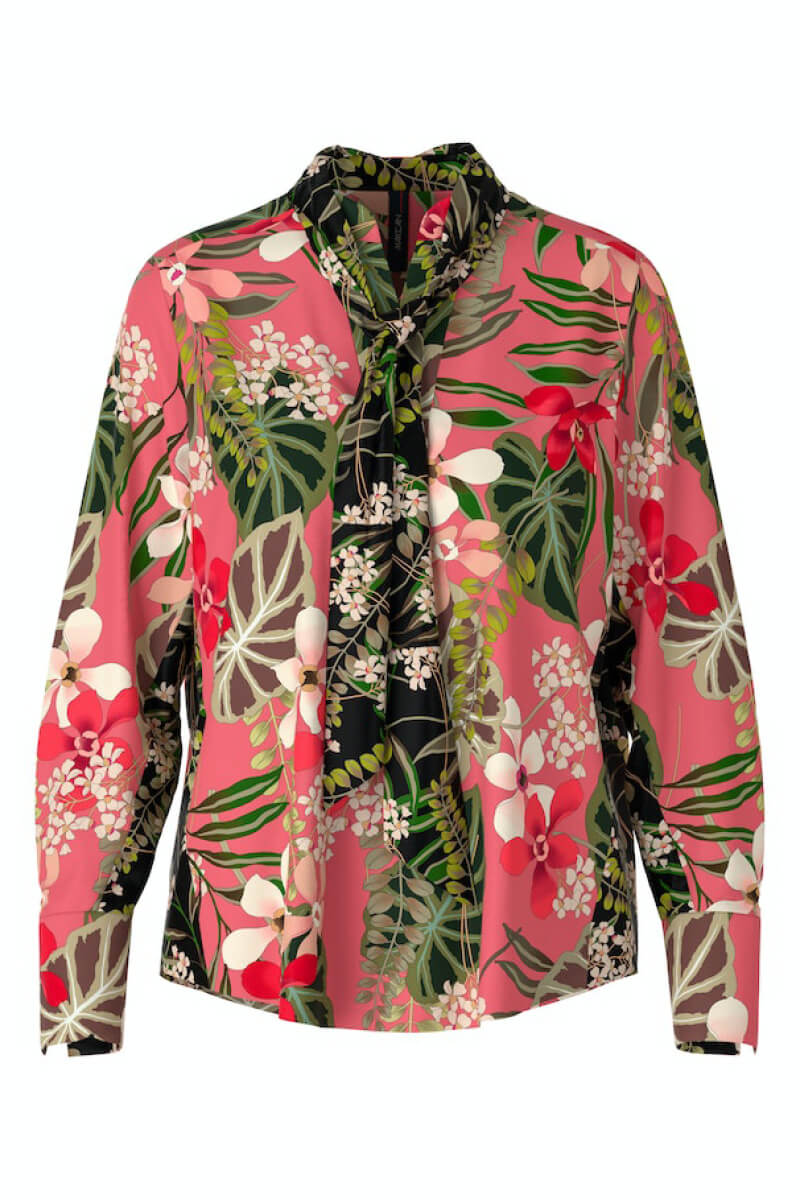 Franca leather look pants / Faux Leather Trousers
If you're going to add new trousers to your wardrobe this season, go for a pair of leather look. These Franca trousers have an elegant sheen thanks to the coated material.  They come in a feminine fit. For added comfort, the regular-height waistband has stretch panels.
Trousers available in-store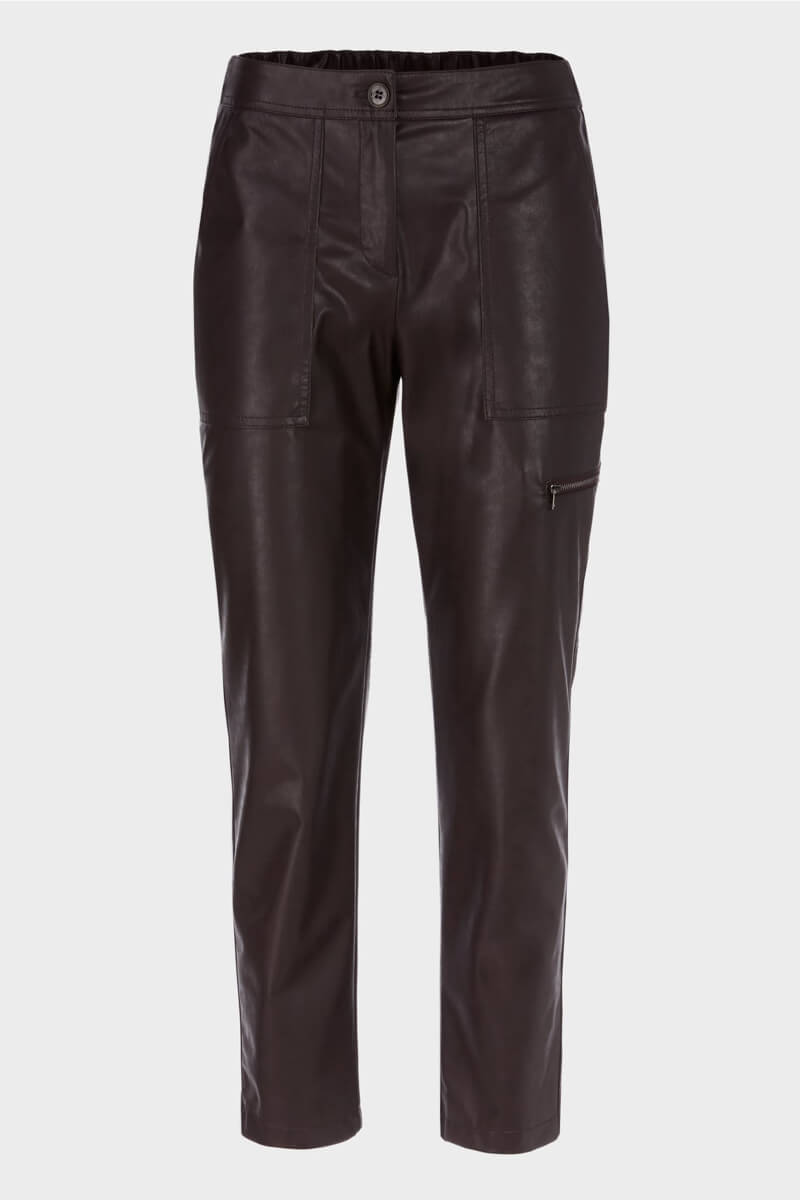 Enhance your Autumn look with Marc Cain
Explore the full Marc Cain collection at Jane Young online and in-store. To discover more pieces where style meets individuality. It's your time to shine this Autumn.
FAQ 1: What defines the Marc Cain woman?
The Marc Cain woman is a contemporary, self-confident individual who lives in the present, expressing her femininity and natural essence through her clothing. Versatile and ageless, she embodies a positive and casual approach to life.
FAQ 2: What sets Marc Cain Collections apart from other fashion brands?
Marc Cain Collections stands out for their versatility, always offering a touch of distinctiveness and uniqueness. The designs are crafted to mirror the multifaceted nature of the women who wear them, ensuring that fashion is always a bit different and unmistakable. They have strong values and ambitious goals to improve and continue moving forward when it comes to the sustainability of the materials they use, their compliance with social standards and animal welfare. 
FAQ 3: Can you describe the inspiration behind the Night Train collection?
The Night Train collection draws inspiration from the luxurious journey of the Orient Express. Opulent and rich in style, it carries an air of mystery and a touch of extravagance. The colour palette gracefully transitions between rich reds, moss greens, and timeless blacks, while patterns reflect the mystical realms of the animal and plant kingdoms.
FAQ 4: What makes Marc Cain so Special?
Marc Cain was launched over 50 years ago and produces meticulously crafted garments that become companions to women in their daily journeys.
Looking for wearable transition pieces for your Autumn Winter wardrobe?
Let us help you discover the look for you. Book your appointment now and find the perfect outfit for Autumn/Winter 23.